Are your employees skilled enough to be future-ready?
The Fourth Industrial Revolution is already here and increasingly, we are seeing automation in the way we work and live, where tasks that are repetitive or predictable are being done by the machines. 
Is this a revolutionary new thing that is happening? No!
This has happened before in the accountancy field. When computers were invented, it started doing a large part of data management and calculation, which changed the jobs scope of accountants forever. Accountants had to adapt their skills from data management and number crunching to be better at analysis and consultation because this is something that the computers cannot do. 
We have a client case study. 
In a large multi-national bank, its CFOs were previously responsible for producing financial reports which were in the process of being outsourced. As part of the transformation, the bank redefined the CFO role to be an 'internal trusted advisor' – the person who can interpret these reports for insights and then advise their internal clients on the 'story' behind the numbers. 
From doing to thinking
The same thing will happen in other fields as Industry 4.0 takes place. According to the World Economic Forum The Future of Jobs Report 2020, soft skills that are related to analysing and problem solving will be the top skills that employers expect from employees by 2025.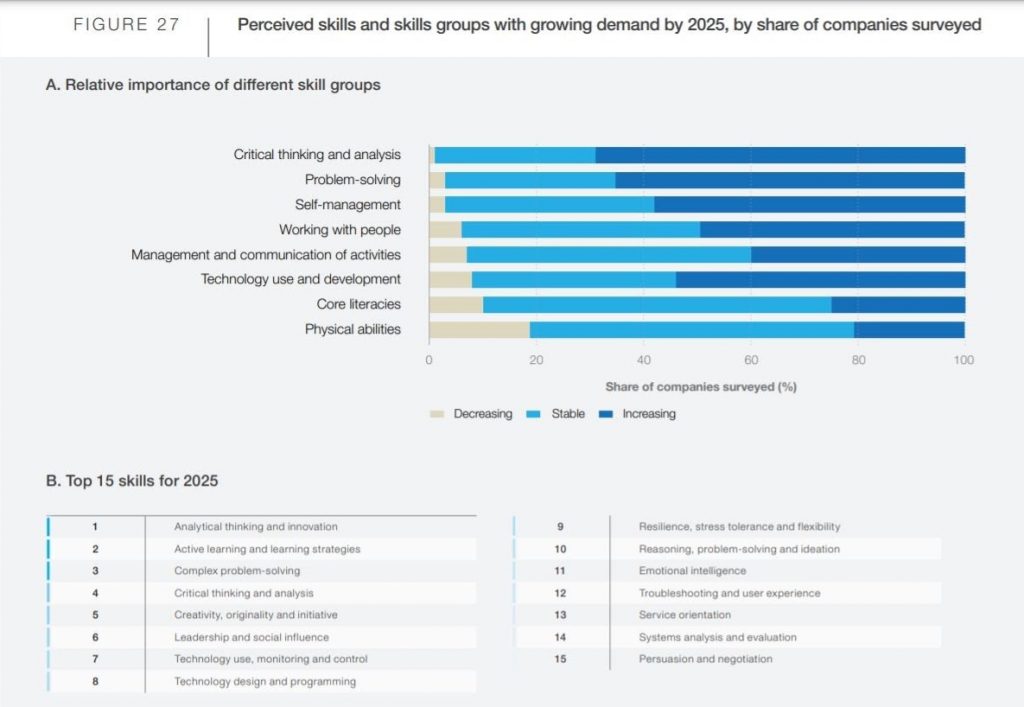 These skills cannot be built overnight. Like any muscle, it needs to be trained and used regularly to unlock its potential. 
So, what training can you promote to increase your employees' analysis and problem-solving skills?
Presentation skills is a good start, because the thinking skills can be deliberately practiced before a presentation. Many of us see presentation skills training as just that – training on how to DO a presentation better. Just add more flair, modulate the voice, different types of gestures, spread the eye contact etc.
However, an all-around presentation skills workshop doesn't just focus on delivery. These skills are somewhat important, but it is only 20% of the whole picture. Imagine seeing a film where the performances were great – but the story and script don't make any sense!
"Regardless of the changes in technology, the market for well-crafted messages will always have an audience."
— Steve Burnett, The Burnett Group
The thinking behind a presentation makes up for 80% of a successful presentation.
Why? Without thinking, you don't have structure. Without structure, you don't have flow. Without flow, a presentation becomes 'nonsense' to the audience. 
You would agree that it is hard to convince, inspire or update someone when they are at a loss as to what you are trying to say.  
There are 3 basic elements in a persuasive presentation:
1. Why?
Why does a presentation need to happen in the first place? If it's trying to solve a problem, why does the problem need to be solved? The pain point must be clear.
2. How?
The solution should be presented from your audiences' point of view. More on this below.
3. What?
A series of systematic steps to ensure that your thinking and presentation is clear for your audience, to have the best chance of persuading them to say 'YES'. Among other things, it consists of questions to ask about your audience so that you can really 'sit in their shoes' and craft your presentation to their way of thinking.  In a different way, it is about improving your listening skills of what matters to your audience.
When you first go through these steps, it may seem very time-consuming and hard. As mentioned earlier, thinking is a muscle, and thinking from a stakeholder's point of view is a subset of the muscle. If you've never used it before, it will feel like climbing a mountain! 
The more you use it, the more you understand your audience, and the faster your thinking will be in your presentation preparation. Soon, you will increase your 'Yes' hit rate! You will also notice yourself building your emotional quotient, improving your listening skills, and improving your conversational skills.
Think first, then show
Now, when your thinking is clear and you have a flow of what you want to say, the visuals are your presentation's 'costume'.
This is what most presentations training teaches – showing confidence with nice-looking slides and a good self-presentation with flair, clear voice, appropriate gestures, etc.
So, where do we go from here? 
In your organization, you can analyze which employees are least skilled in 'thinking skills', considering how their job descriptions may change by year 2025.
In our experience, technical professionals most often would benefit from these skills because they are deeply knowledgeable about their field but not so well-equipped to communicate, propose and influence ideas to those outside their field. 
Another reason to focus on technical professionals is that they can see changes happening on the ground or in the horizon, changes that are useful for managers to know and act on.  This is part of developing their leadership skills.
These are some insights into the developmental needs which are critical for your employees to make them ready for the future – improving conversational skills, increasing emotional intelligence, and building trust.