"Start with what is right rather than what is acceptable." – Franz Kafka
With 30 years of experience in learning and development, Sharm continues to be involved in virtual and classroom delivery, business development, strategic planning and client servicing with local and multinational companies. She has designed and trained workshops and programmes across a wide variety of industries, including corporate banking, IT, media and advertising, manufacturing, and government sector.
With a candid and energetic style, Sharm helps professionals, leaders and talent communicate ideas for business results by challenging executives to hone their thinking and articulation in high stakes situations. And, helping them maintain personal excellence without burning out.
Countries that she has trained in Malaysia, Singapore, India, Indonesia, Philippines, Korea, Taiwan, China, Hong Kong, United States and the United Kingdom.
Sharm is a certified trainer, accredited interpreter, and Country Partner for flowprofiler® for Singapore, Indonesia and India.  Sharm is also a Master Trainer for the globally acclaimed Think on Your Feet® programme. 
Sharm graduated with an MBA (Strategic Management) from the Strathclyde Graduate Business School in Glasgow, Scotland.
She speaks Bahasa Malaysia fluently and has working fluency in Bahasa Indonesia .  Also she has an uncanny way of understanding others when they speak in a language she doesn't know.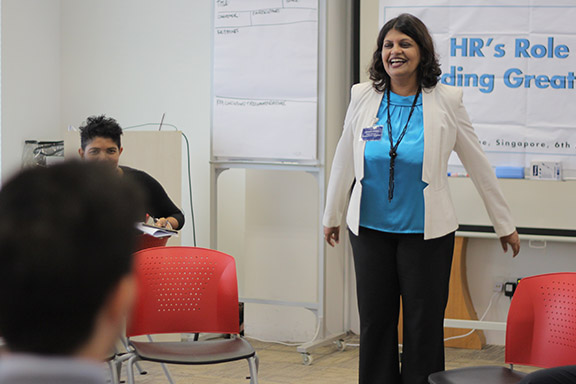 Business Presentations

Optimal Performance & Wellbeing

State Assessment
Design & Delivery (virtual & classroom)

Business Development